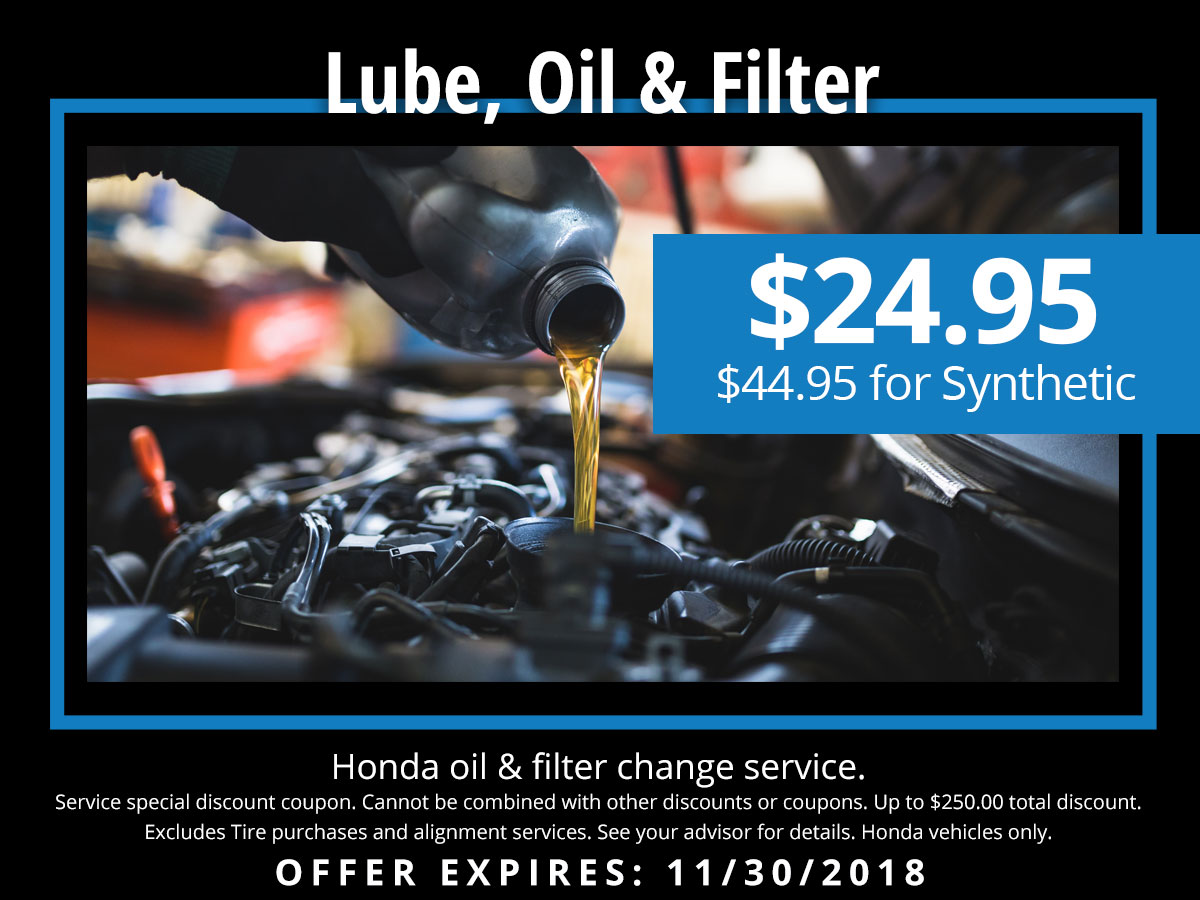 $24.95 for Conventional Oil
$44.95 for Synthetic Oil
*service special discount coupons. Cannot be combined with other discounts or coupons. Up to $250 total discount. Excludes tire purchases and alignment services. See your advisor for details. Honda vehicles only.

Your Honda car, van, crossover, truck, or SUV has an engine with many moving components that require proper lubrication to avoid damage. Honda genuine synthetic oil helps your engine stay cool on hot summer days. Your Honda genuine synthetic oil will start to break down as it becomes contaminated with dirt and other particulates. As oil begins to wear out, it is not able to lubricate engine parts as well as it once did. That is why we recommend regular synthetic oil change service at the specified service intervals.
Being Proactive with Synthetic Oil Change Service
Lute Riley Honda of Dallas recommends taking a proactive approach to synthetic oil change service as different driving conditions can cause engine oil to break down faster. Our customers in Dallas, Richardson, Garland, and Farmers Branch know that the Texas summer heat can be scorching and unforgiving. Hot ambient temperatures and/or hauling heavy loads can add significant heat and stress to engine oil. Drivers facing harsh conditions will want to consider synthetic oil service at shortened maintenance intervals to preserve vital engine parts.
Benefits of New Genuine Honda Synthetic Oil
Our Honda certified technicians know that there are several benefits to regular synthetic oil change service:New synthetic oil service is the best way to ensure proper engine lubrication New synthetic oil service cools the engine the best New synthetic oil service ensures that harmful particulates are removed from the engine New synthetic oil service protects gas efficiency New synthetic oil service is one of the best ways to extend your Honda vehicle's life
Schedule Your Honda Synthetic Oil Change Service Today
Most of our Honda drivers have busy lives; they don't have time to sit around for hours while their vehicle gets synthetic oil change service. That is why at Lute Riley Honda of Dallas, we guarantee express service within 30 minutes for every Honda genuine synthetic oil change. That means you are in and out within 30 minutes. If your Honda car, truck, van, crossover, or SUV needs synthetic oil change service, call the Lute Riley Honda of Dallas service center at (855) 250-5528 to have one of our Honda certified technicians remove your old oil and replace it with Honda genuine synthetic oil.
Service Hours
Monday

7:00am to 7:00pm

Tuesday

7:00am to 7:00pm

Wednesday

7:00am to 7:00pm

Thursday

7:00am to 7:00pm

Friday

7:00am to 7:00pm

Saturday

7:00am to 5:00pm

Sunday

Closed