Sorry, no items matching your request were found.
Reset Search
Learn More About the Versatile Honda Civic at Lute Riley Honda
The right ride for the right price is easy to discover when you choose to shop with us here at Lute Riley Honda, and the Honda Civic may just be the ride of your dreams. Coming in three body styles - sedan, coupe, and hatchback - as well as a number of trim levels with plenty of options, we have no doubt that drivers in and around Richardson will find one worth writing home about.
Style and Design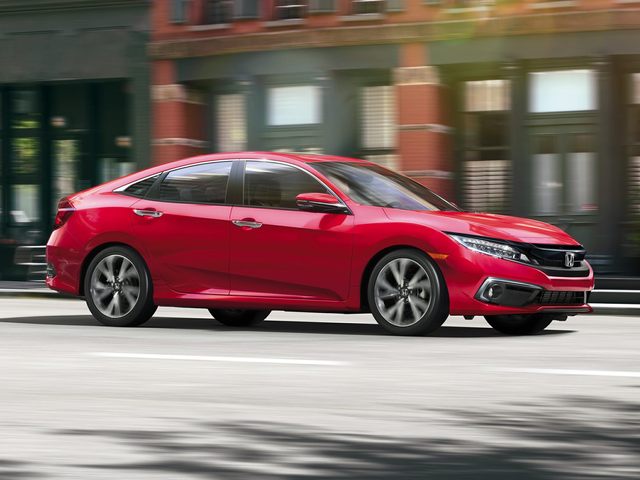 Style and Design
The Civic catches your eye right from the start, thanks to its aggressive front end and wide stance. The silhouette on sedan and coupe models is enhanced by the sloping roofline, while hatchback variants feature a bulging rear end that's emphasized by the pronounced spoiler. Opt for either the Sport or Sport Touring trim level and you'll also get center-mounted dual exhausts.
The cabin is appointed in premium materials, with a design that places everything in clear focus for the driver. Not only does the Honda Civic offer better interior volume than many of its class rivals, it also presents owners with the cargo capacity they want. The coupe offers about 12 cubic feet of cargo capacity, while the sedan has 15.1 cubic feet of cargo space. The hatchback is the cargo champ in this family, giving you 25.7 cubic feet when the rear seats are up and 46.2 cubic feet of room once they seats are lowered.
Comfort and Technology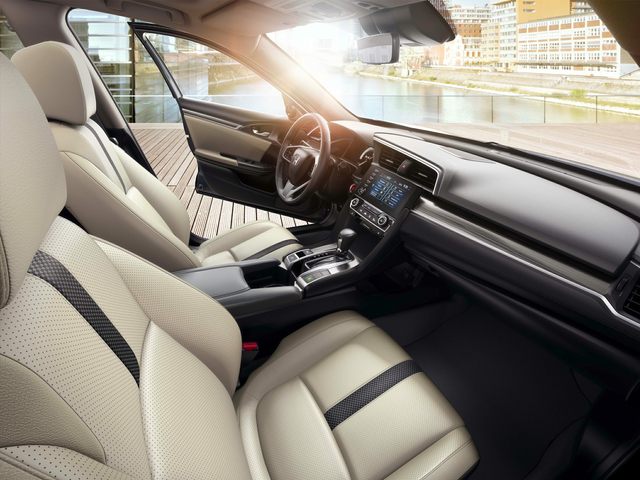 Comfort and Technology
Small families rejoice! The CR-V boasts spacious comfort in all five seats, sure to get your loved ones clamoring for even the shortest errands. From available premium materials like leather trim and heated front seats, you'll be comfortable and smiling no matter how far you travel. And with features like a 7-inch touchscreen infotainment system with Apple CarPlay and Android Auto for entertainment, as well as safety features like a Multi-Angle Rearview Camera, the Blind Spot Information System, Honda Sensing™, and others, you'll have eyes in all directions while you keep yours on the road ahead.
Performance

Performance
Sedan and coupe models are powered by a standard 2.0-liter four-cylinder engine that pairs to a standard six-speed manual transmission, with an continuously variable automatic transmission available. Hatchback models, and higher-level sedan and coupe trims, enjoy the marriage of power and efficiency that's delivered by the turbocharged 1.5-liter four-cylinder engine.